---
Happy campers spend freely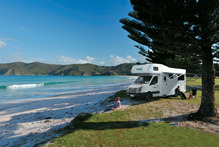 Australian visitors travelling in campervans spent an average of $214 a night last year, putting them at the top of the table
Campervan tourists spend close to $500 million a year in New Zealand, with Australians the biggest spenders.
Research for the Ministry of Business, Innovation and Employment finds that last year almost 64,000 campervans were hired.
International visitors hired 53,710 campervans during 2011, staying an average of 16.8 days and spending $447.9 million in this country. New Zealanders hired 10,220 campervans during the same period, staying an average of 8.9 days and spent $38.1 million outside their home regions.
On average a domestic campervan hire lasted just under 8 nights and an international hire almost 16 nights.
Australians spend the most - $214 a night - while the Dutch spend the least - $173 a night. New Zealanders spend $196 a night on average.
New Zealanders spent $1787 over their entire trip, an average of $196 a night.
International visitors spent $3836 per adult, excluding international airfares, the equivalent of $195 a night over the entire trip.
Just over 42,000 campervan tourists from overseas - 36 per cent - used Air New Zealand to get here, spending $61 million.
Canterbury is the most popular region for international visitors, with 70 per cent going to this region.
All New Zealand regions were visited by more than a quarter of international campervan occupants except Taranaki, which was visited by only 15 per cent.
New Zealanders spent 75 per cent of their nights in paid sites while overseas visitors spent 89 per cent in paid sites.
In the year to March international tourism expenditure totalled $9.6 billion and domestic spending $13.8 billion.
While the motorhome industry is a big earner, there is excess capacity in the market here following a drop off in demand from British and European tourists.
There are an estimated 5500 motorhomes in New Zealand, about 1000 too many according to the industry.
Major operator Tourism Holdings has merged its Maui and Britz fleet with KEA Campers and with United Campervans and Sales in a $69 million deal that will result in 500 fewer motorhomes between those brands.
The research excluded last year's Rugby World Cup visitors to represent a normal year.
ON THE ROAD: International visitors' spending per adult
Van hire $1311
Site fees $283
Accommodation $246
Domestic airfares $79
Other transport $185
Fuel $298
Groceries $338
Food and bev $324
Attractions $502
Retail $251
Other $18
Total $3836